About Short Bark & Sides
'Short Bark & Sides' was a new addition in September 2013 to our newly renovated clinic.  Our grooming service is complete with new state of the art equipment and our very own team – fully qualified groomer Mickelle Crow, Kerri Johnson (Apprentice Groomer) and Maggie McKinlay (Customer Care)
Mickelle is happy & able to groom any dog, no matter what shape or size. With being a vet clinic & having plenty of kennels we can also offer an all day drop off service for your convenience.
For breeds which require regular grooming such as Shih Tzus, Schnauzers, Poodles etc, we recommend you make a booking every 6 – 8 weeks. This prevents the coat becoming matted or knotted, and makes up-keep at home much easier. We have a range of affordable grooming options to suit the demands of all breeds. Full Grooms starting from $60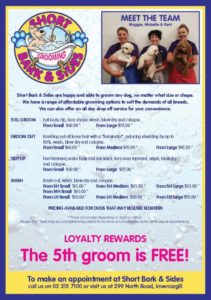 Full Groom:
Full body clip, face shape, wash, blow dry and cologne.
Groom out:
Brushing out all loose hair with a "furminator", reducing shedding up to 80%, wash, blow dry and cologne.
Groom Shave:
For badly matted dogs. Includes a whole body shave, wash, blow dry and cologne.
Tidy Up:
Feet trimmed, under bell and tail tidied, face area trimmed, wash, blow dry and cologne.
Wash:Brush out, wash, blow dry and cologne.
(Click on the Price list to enlarge)
Loyalty Rewards.
Should you become a regular customer we have a reward for you…your pets 5th groom will be FREE! Just bring them in on a regular basis and have the same groom type performed and your 5th groom will be courtesy of us to say thanks!
To make an appointment at 'Short Bark & Sides' please phone 03 2159237 ext: 3